Over a year since the dominating release of their tenth studio LP,
Honor Found In Decay
, the unstoppable
NEUROSIS
has locked down two new performances in their ongoing, sporadic live ceremonies in support of the album.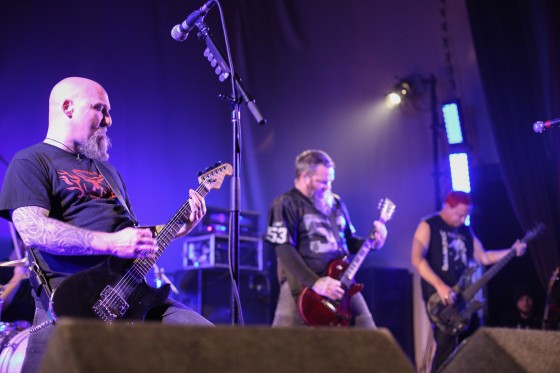 The newly-confirmed duo of concerts will take place at the cusp of the New Year, both in California, and both feature very special guests.
NEUROSIS
will first storm into Santa Ana on December 28th, then occupying their Bay Area origin once again the next evening, performing in San Francisco on December 29th. Both of these performances will feature direct support from Santa Cruz hardcore legends, Bl'ast — recently reunited, and here, performing their first live shows in over fifteen years — as well as mighty psychedelic doom trio, YOB. Additional opening support on the Orange County show will be provided by Helen Money, and the San Fran gig will showcase The Body leading off the night's actions.
NEUROSIS
has already announced their upcoming plans to invade Portland, Oregon with support from Tragedy, The Body and Atriarch on November 23rd, as well as two performances in Montreal January 18th and 19th alongside Godspeed You! Black Emperor — their first Canadian shows in nearly twenty years — followed by a set at the first inaugural Temples Festival in Bristol, UK in May. Other live actions will be declared as time continues to erode the calendar in the weeks before us.
NEUROSIS Live Actions:
11/23/2013 Roseland Theater – Portland, OR w/ Tragedy, The Body, Atriarch [
info
]
12/28/2013 The Observatory Orange County – Santa Ana, CA w/ Bl'ast, YOB, Helen Money [
info
]
12/29/2013 The Regency Ballroom – San Francisco, CA w/ Bl'ast, YOB, The Body [
info
]
1/18/2013 Metropolis – Montreal, QC w/ Godspeed You! Black Emperor [
info
]
1/19/2013 Metropolis – Montreal, QC w/ Godspeed You! Black Emperor [
info
]
5/03/2014 Temples Festival – Bristol, UK [
info
]